6 tips to Speed up usb file transfer New Method 2017
Some tips
Speed up usb file transfer
. You can increase usb data transfer speed, if you follow my tips. In this article I will tell you my own tips to make usb faster.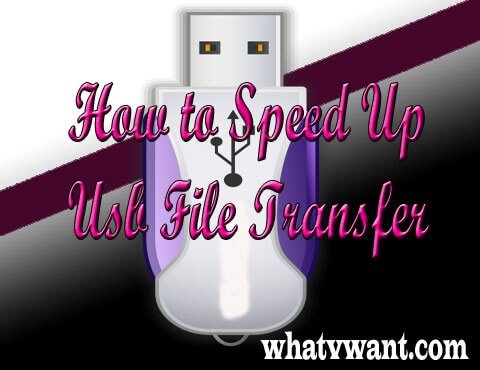 First thing first, when you want to do any thing with PC, PC must be fast. Paid pc tuneup utilities like
avg pc tuneup
will make your PC faster automatically. When you don't like to spend money, then read How to increase computer speed manually.
How to Speed up usb file transfer
Tip 1 : Transfer one file at a time
You need to transfer one file at a time. If you transfer more than one file, you will get less speed. Remember, computer will not share speed equally, instead it will reduce the speed. If you want to send multiple files, select all the files and send at once. When send all files at once,computer considers it as one file and it transfers with full speed.
Tip 2 : Close all running programs
When you want to
speed up usb file transfer,
you need to close remaining running programs. When you run more programs, programs consumes computer resources like RAM and disk space. This will have effect on data transfer speed.
Tip 3 : Use single usb at a time
Don't use more than one usb at a time. Use only one usb and send only one file at a time.
Tip 4 : Change removal policy
"Quick Removal" and "Better performance" are the two removal policies available for usb. By default Windows enables "Quick Removal" policy. In "Quick removal" policy, you can remove your pen drive when you want. You will not lose data, Even if you remove pen drive without clicking on "safely remove hardware and eject media".
But in "Better performance" policy you must remove usb safely other wise there is a chance that you may lose data
. If you enable "Better performance" policy, you may get better speed.
Follow below steps to enable "Better performance" policy.
Place your pen drive in usb port.
Go to "My computer".
Right click on your usb name.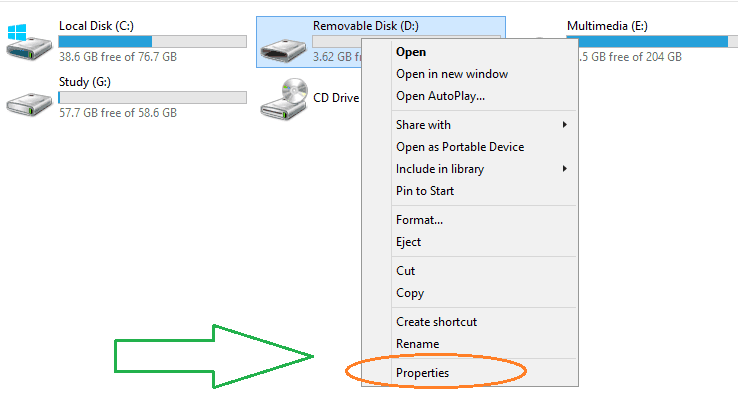 Click on Properties. You will see "Properties" window as shown below.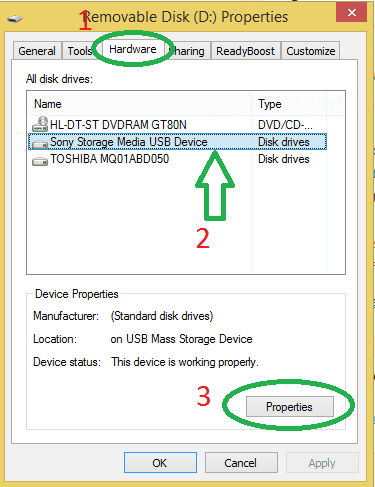 Click on "Hardware" in top menu.
Select your device name.
Click on "Properties" as shown in above screenshot. You will see your device property window shown below.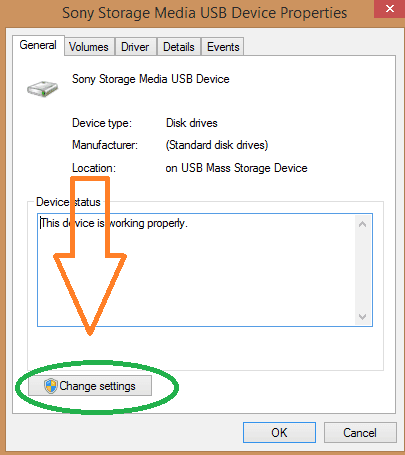 Click on "Change Settings" shown in above screenshot. You will see another properties window.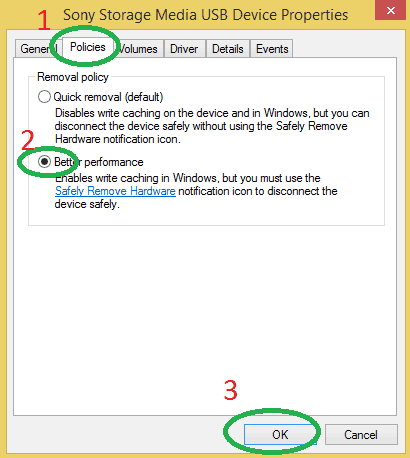 Click on "Policies" in top menu.
Check "Better Performance" option.
Click "Ok".
Now your usb work in better performance removal policy. Though it is better performance option, I did not find huge impact on file transfer speed. Of course, there is slight improvement. It is your wish to use this option or not.
I have transferred a file with two options. Maximum speed was 4.85 Mb/S with "Quick removal" option where 5.04 MB/S with "Better performance" option. For such small improvement, you need not to put pen drive in risky mode. Because you must
safe remove pen drive with this mode other wise you may lose data
. Even if you lose data you can recover lost data from usb.
Read : Easy method to restore deleted files from PC,USB and memory card
Tip 5 : Use usb 3.0
You can buy usb 3.0 pen drive. Because maximum speed of usb 2.0 is 60 MBps(Mega Bytes per second) where maximum speed of usb 3.0 is 640 MBps.
Tip 6 : Speed up computer
Your computer performance makes huge impact on data transfer speed. Better
RAM
, better processor and virus free system always improves data transfer speed. Though you cannot improve your processor, you can upgrade your RAM and you can remove malware. Do remember while upgrading RAM, you must check RAM compatibility with your mother board. You can also improve you computer speed without spending money. You need to follow some tips. Below articles will help you to improve you system performance.
I hope you like my article about how to Speed up usb file transfer. If you like it, do me favor by sharing it with your friends. If you know any other methods, do share in comment section.